E X P O S I T I O N G R E A T T O U R I S T
A N E W W A Y T O T R A V E L
I N R U S S I A

︎Galerie des AAB, Paris
2016
---
︎ TEASER DE L' EXPOSITION
︎ VUES DE L' EXPOSITION
Extrait du communiqué de presse de l'exposition :

« You are great tourist ! » s'est spontanément exclamée la logeuse de Saint-Pétersbourg, interrogeant les possibles mobiles d'un voyage en train de 7000 kilomètres à travers le territoire russe. Cette phrase prend un sens particulier dans un pays qui ne semble utiliser les mécanismes et codes de développement du tourisme de masse que partiellement, dans des lieux symboliques extrêmement localisés, identifiés et régulés.






Le projet « Great Tourist, a new way to travel in Russia » cherche à capter l'essence d'un voyage en Russie. La question sous-jacente est celle de la restitution de l'expérience vécue par des corps en mouvement qui se déplacent de l'Occident à l'Orient, à travers l'infini du territoire russe, de la monotonie des vastes étendues sibériennes à la pureté des paysages mystiques du Baikal.





Dans ce cadre mouvant, le collectif Neotravelmakers travaille à la retranscription d'impressions visuelles et sensorielles en questionnant le statut du voyageur étranger, du « bon touriste », dans la Russie contemporaine.




Cet échantillonnage d'impressions se concrétise par le biais de différents médiums allant de la construction au dessin en passant par la sculpture. Les matières, les motifs, l'architecture, la géographie et le territoire, la nature et l'urbain sont autant de prétextes qui guident leur démarche de création collective.
L'immensité extérieure du territoire parcouru se trouve domestiquée dans une narration contenue à l'intérieur de la galerie. L'espace se découpe en une pluralité de points de vue plus ou moins larges. Chaque œuvre est un lointain en approche, métaphore du voyage en train, et aborde une thématique particulière fortement ancrée dans un des multiples territoires parcourus : l'âme russe, le paysage vernaculaire, l'isba comme cellule architecturale, l'icône et la couleur-lumière, l'espace illimité délimité sont autant de sujets exploités dans les différents objets du projet « Great Tourist ».




La démarche conceptuelle de Neotravelmakers s'enrichit d'une multitude d'éléments cohabitant d'une façon aussi paradoxale qu'harmonieuse : la culture et la nature, des villes dantesques parfois monstrueuses et fatiguées par l'histoire et la forêt à perte de vue, la matérialité et le concret de l'habitat traditionnel en bois, une forme de conceptualisation de l'espace avec la carte et le territoire, des éléments formels entre le raffinement et le sauvage. Toutes ces strates mémorielles racontent une certaine image de la Russie d'aujourd'hui, vue par des yeux exogènes.




Le rêve d'une Isba de lumière pure, comme seul James Turrell aurait pu en concevoir, projetant ses reflets sur des parois mouvantes et immatérielles, devient la pièce maîtresse de l'exposition autour de laquelle tout s'articule. Elle est la cellule architecturale, le lieu du retrait, la cachette, le refuge, le rempart contre le froid et l'échappatoire de Sylvain Tesson. Par sa structure éclatée, elle donne à voir l'intérieur en se fondant simultanément dans le paysage environnant. De cette isba, le voyageur parcourt l'infini et l'évidence de paysages sauvages ou vernaculaires, à travers les différentes oeuvres de l'exposition.



︎ IMAGES DOCUMENTAIRES DU VOYAGE EN TRANSSIBERIEN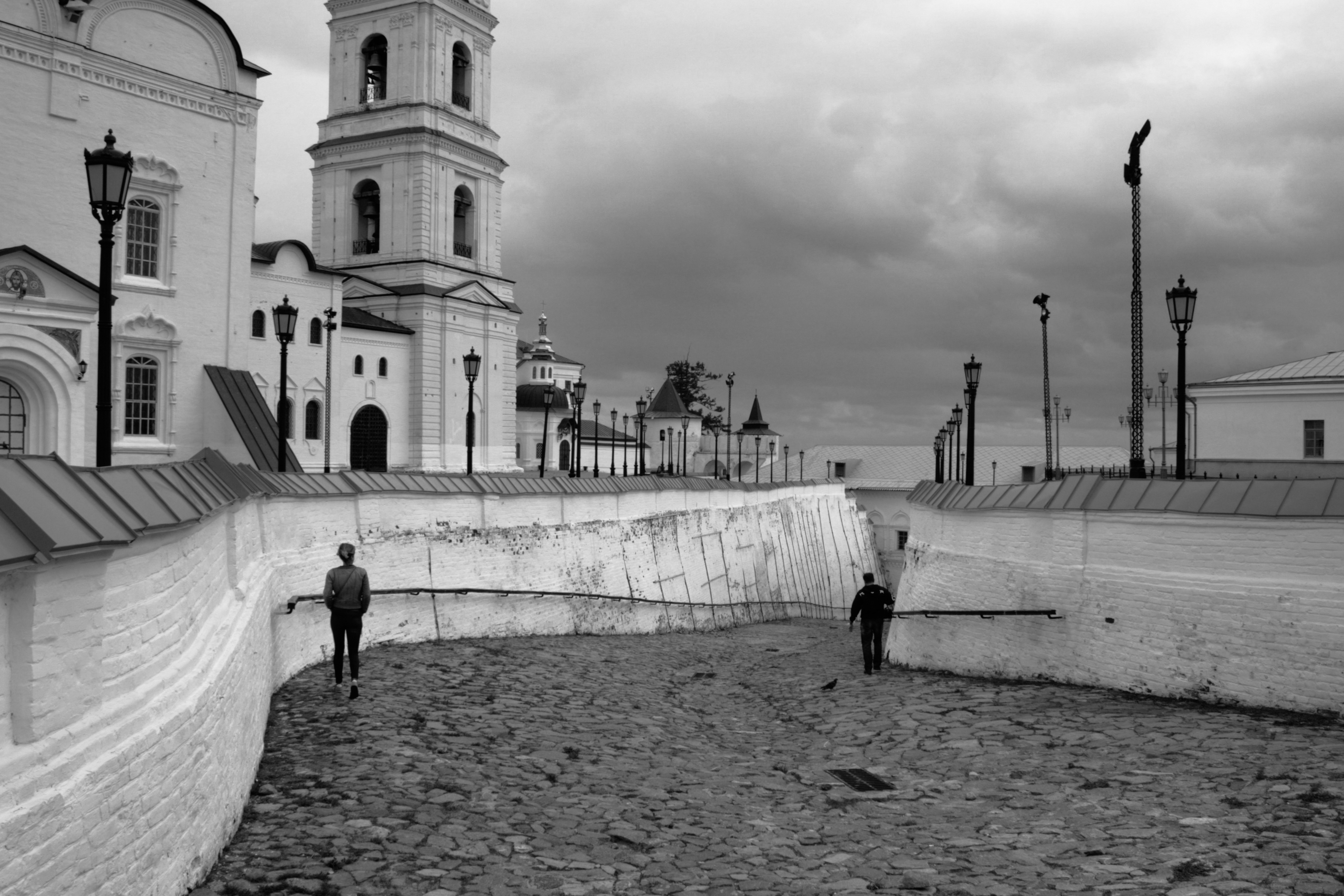 ---
Extract from the exhibition press release :

"You are great tourist! Spontaneously exclaimed the landlady of St. Petersburg, questioning the possible motives of a 7,000 kilometer train journey through Russian territory. This sentence takes on a particular meaning in a country which seems to use the mechanisms and codes of development of mass tourism only partially, in symbolic places extremely localized, identified and regulated.


The "Great Tourist, a new way to travel in Russia" project seeks to capture the essence of a trip to Russia. The underlying question is about the restitution of the lived experience of moving bodies that move from West to East, across the infinity of Russian territory, from the monotony of the vast Siberian expanses to the purity of the mystical landscapes of Baikal.


In this changing framework, the Neotravelmakers collective works to transcribe visual and sensory impressions by questioning the status of the foreign traveler, of the "good tourist", in contemporary Russia.


This sampling of impressions is materialized through different mediums ranging from construction to drawing to sculpture. Materials, patterns, architecture, geography and territory, nature and the city are all pretexts that guide their collective creative process.
The outer immensity of the territory traversed is domesticated in a narrative contained within the gallery. The space is divided into a plurality of more or less broad points of view. Each work is a distant approach, a metaphor for train travel, and tackles a particular theme strongly anchored in one of the multiple territories covered: the Russian soul, the vernacular landscape, the isba as an architectural cell, the icon and the color. -light, the delimited unlimited space are all subjects exploited in the various objects of the "Great Tourist" project.

Neotravelmakers' conceptual approach is enriched by a multitude of elements coexisting in a way as paradoxical as it is harmonious: culture and nature, Dantesque cities sometimes monstrous and tired by history and forests as far as the eye can see. , the materiality and the concrete of the traditional wooden habitat, a form of conceptualization of the space with the map and the territory, formal elements between refinement and the wild. All these layers of memory tell a certain image of Russia today, seen through exogenous eyes.

The dream of an Isba of pure light, as only James Turrell could have conceived, projecting its reflections on moving and immaterial walls, becomes the centerpiece of the exhibition around which everything revolves. It is the architectural cell, the place of withdrawal, the hiding place, the refuge, the rampart against the cold and the escape route of Sylvain Tesson. By its split structure, it shows the interior while simultaneously blending into the surrounding landscape. From this isba, the traveler goes through the infinity and the evidence of wild or vernacular landscapes, through the different works of the exhibition.