Co-réalisé avec Michel Salamero
Assemblage, pyrogravure sur bois de cagettes et palettes
︎Jour & Nuit culture, Paris
2011 - 2012




Monde Venus
Au numéro 61, rue Saint Charles, dans un vaste espace, lieu de création et de vie, émerge une structure en bois de forme ovoïde. Est-ce un cocon, une planète, un ventre? Peut-être un peu les trois...




L'enveloppe se divise en diverses lignes de force qui sont autant de chemins à parcourir. Le plein compose avec le vide, la matière avec l'immatériel...
De loin, cette sculpture éphémère semble réalisée à partir d'un bois précieux, lisse, où la lumière se réfléchit. Lorsque l'oeil se rapproche, il aperçoit les aspérités de la matière, les différentes textures.
Ces cageots fragmentés et recomposés révèlent des taches, des empreintes du monde de la rue. Lui qui contenait et transportait des vivres, des odeurs, des saveurs.

Palimpseste du quotidien, il devient la feuille blanche du dessinateur. Vincent Rauel et Michel Salamero se situent au carrefour de diverses cultures. Ils citent, empruntent, détournent, malmènent même certaines références de l'histoire de l'art, de la mythologie. Le dessin gagne l'espace et se métamorphose en sculpture voire architecture. Les palettes sont assemblées pour offrir la vision d'une Venus archétypale.
Oscillation entre forme stylisée et foisonnement de détails qui s'enlisent, s'imbriquent jusqu'à engendrer une écriture. Une écriture faite d'une seule et même ligne. La précision du graphisme relève du travail d'orfèvre. La main brûle le support pour y graver des formes à jamais inscrites, tatouées dans la chair même de cette Vénus de fortune. Celle-ci est mise à nu, mise à découvert, l'enveloppe est structure, la peau est squelette. Cette surface est irrégulière : elle comporte des séparations qui sont en même temps des ponts vers d'autres univers de signes. Le trait déborde et se poursuit sur la palette suivante. Les interstices ne sont pas des coupures mais des entre-deux permettant le passage. Le regard est sans cesse troublé, questionné.

Les images que nous croyons être évidentes ne sont que des mirages. Un soleil devient sein, ou l'inverse peut-être... Des cheveux se métamorphosent en serpents. Monde où l'érotisme ne peut exister sans une part de violence. Le dessin lui-même est mis à l'épreuve et gagne d'autres territoires.




Composée à quatre mains, cette installation est le fruit d'une collaboration entre Michel Salamero se revendiquant « bricoleur » et Vincent Rauel, jeune plasticien. Ils nous invitent à pénétrer dans cette œuvre multiple et à la compléter par notre propre histoire.
Elisabeth Spettel, docteur en Philosophie de l'art, 2012.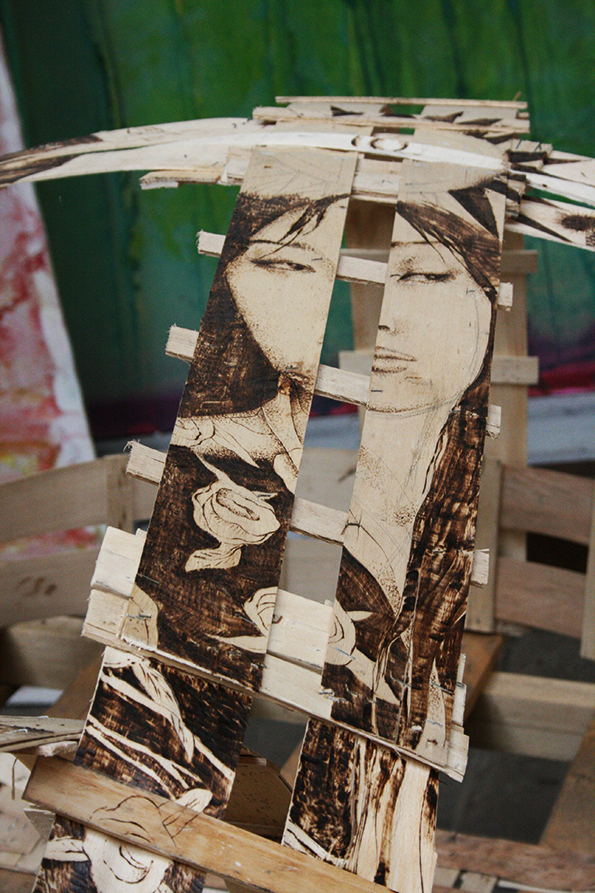 ---
Venus World

At number 61, Saint Charles street, in a vast space, a place of creation and life, emerges an ovoid-shaped wooden structure. Is it a cocoon, a planet, a belly? Maybe all three ... The envelope is divided into various lines of force which are all paths to be followed. The full composes with the void, the material with the intangible ...

From a distance, this ephemeral sculpture seems to be made from a precious, smooth wood where light is reflected. When the eye gets closer, it sees the roughness of the material, the different textures.

These fragmented and recomposed crates reveal stains, imprints of the street world. He who contained and transported food, smells, flavors.



Palimpsest of everyday life, it becomes the blank sheet of the designer. Vincent Rauel and Michel Salamero are located at the crossroads of various cultures. They quote, borrow, divert, even abuse certain references from the history of art, from mythology. The drawing gains space and is transformed into sculpture or even architecture. The palettes are assembled to offer the vision of an archetypal Venus.
Oscillation between a stylized form and an abundance of details that get bogged down, overlap to the point of generating writing. A writing made of one and the same line. The precision of the graphics is the work of a goldsmith. The hand burns the support to engrave forms forever inscribed, tattooed in the very flesh of this makeshift Venus. This is laid bare, uncovered, the envelope is structure, the skin is skeleton. This surface is irregular: it comprises separations which are at the same time bridges towards other universes of signs. The line overflows and continues on the next palette. The interstices are not cuts but in-between allowing passage. The gaze is constantly troubled, questioned.


The images that we think are obvious are just mirages. A sun becomes a breast, or perhaps the reverse ... Hair is transformed into snakes. World where eroticism cannot exist without a part of violence. The design itself is put to the test and gains other territories.
Composed by four hands, this installation is the result of a collaboration between Michel Salamero claiming to be a "handyman" and Vincent Rauel, a young plastic artist. They invite us to enter this multiple work and complete it with our own history.


Elisabeth Spettel, Philosophy of Art Doctor, 2012.